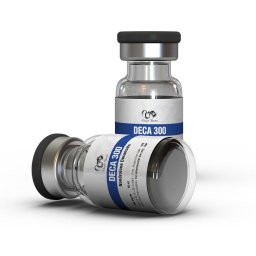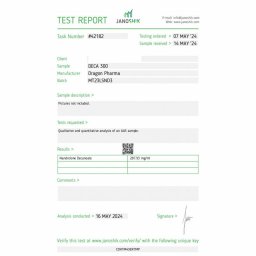 Dragon Pharma
Deca 300
Manufacturer: Dragon Pharma
Substance: Nandrolone Decanoate
Pack: 10 ml vial (300 mg/ml)
Deca 300 Detailed
Buy Deca 300 by Dragon Pharma from Domestic-Steroids.com
Deca 300 is an injectable anabolic - androgenic steroid for muscles growth. Usually Deca is used in bulking steroids cycles.
Deca 300 contains Nandrolone Decanoate and is sold in 10ml vials with strength 300mg/ml which means in 1ml of injections you get 300mg of nandrolone decanoate.
Usually Deca 300 is used in bulking steroids cycles in 10-12 weeks cycles.
Deca 300 Dragon Pharma Cycle. How to use Deca 300?

Here is an example of Deca 300 Steroid Cycle:
WEEKS
1-10 Deca 300 @1ml/week
1-12 Testosterone Enanthate 2ml/week
PCT with Clomid will be started 2 weeks after last injection.
PCT WITH CLOMID
==============================
Day 1 – Clomid 100mg
Day 2 - Clomid 100mg
Following 20 days – Clomid 50mg
*If needed you can take it for 5-7 days more at 25mg/day dosage.
TABS are taken with food.
==============================
How do I know the Deca 300 I buy is real?

Domestic-Steroids.com is approved Dragon Pharma supplier. Check this on DP site: http://dragon-pharma.com/
Dragon Pharma Deca 300 Lab Test
Deca 300 Reviews
Please log in to write Deca 300 review.